The following 5 items are from Joel B. Pollak at breibart.com:
Hillary Clinton has made Donald Trump's remarks about a federal judge, among others, the basis for a campaign accusing him of being a racist. It is worth visiting Clinton's own history of making racially offensive comments for political gain.
1. "Hard-working white Americans" prefer her to Obama.
In May 2008, Clinton told the USA Today that while Obama was leading the delegate race, she still had a broader political base. Unfortunately, she made that claim in explicitly racial terms,
citing
an Associated Press poll "that found how Senator Obama's support among working, hard-working Americans, white Americans, is weakening again, and how whites in both states who had not completed college were supporting me."
2. "Colored People's Time."
Clinton appeared alongside left-wing New York City mayor Bill de Blasio at the annual Inner Circle Dinner this year, and joined in a racist joke based on a stereotype that black people are late for everything:
Clinton: I just have to say thanks for the endorsement, Bill. Took you long enough. [Laughter]
De Blasio: Sorry Hillary, I was running on C.P. time. [Audience gasps]
Host: I don't like jokes like that.
As Mediate later noted, the cable news networks mostly ignored the racist joke
[/youtube]
3. Dr. Martin Luther King, Jr. wasn't really THAT great.
 As she struggled to stop the Obama insurgency in the 2008 Democratic primary, Clinton tried to diminish Obama's credentials as a "community organizer," which had led some to draw connections between him and Dr. King. Clinton
argued
that it was really a professional politician, President Lyndon Johnson, who made the difference: "Dr. King's dream began to be realized when President Johnson passed the Civil Rights Act"
4. "Ah don't feel no ways TAHHHHHRD."
Clinton, like Vice President Al Gore, and indeed like President Obama himself, has a tendency to imitate what she believes to be an African-American accent when she speaks before black audiences. Obama, who grew up in Hawaii, at least has some cultural competence and experience, honed through practice in inner city Chicago. Clinton manages to sound condescending every time — most notoriously in this cringe-worthy clip from 2008.
[/youtube]
5. Obama's "slumlord," and "super predators."
 Losing traction in 2008, Clinton belatedly attacked Obama's connection to fraudster and fundraiser Tony Rezko: "I was fighting against those [Reagan] ideas when you were practicing law and representing your contributor, Rezko, in his slum landlord business in inner city Chicago," she said in a South Carolina debate. The remark was described as racist by Obama fans — as was her 1996 term for chronic criminals,
"super predators."
The following items are from Brian Anderson at downtrend.com:
The liberal media, democrats, and even some Republicans are going crazy over Donald Trump's "racism." For the record, the GOP nominee has made comments against illegal alien criminals and Islamic terrorists, but has never attacked or spoken ill of anyone's race. Hillary Clinton on the other hand has a long and sordid history of making racist remarks, but somehow gets a free pass.
If the media wants to focus on the racism of the presidential candidates, why are they ignoring these prime examples:
#6 –
In 1974, after Bill Clinton lost his bid for a Senate seat, Hillary lashed out at campaign manager Paul Fray calling him a, "f*cking Jew bastard!" This outburst was
witnessed and confirmed
by 3 people, so it definitely happened.
#7 –
As First Lady, Hillary called young black men "super-predators" indicating that she thought all young black males were violent criminals. She also said, "
We have to bring them to
heel," like young blacks are the same as dogs. Despite thinking this was
incredibly racist
, blacks still support Hillary.
#8 –
While serving in the US Senate, Hillary tried to make a joke that
disparaged a civil rights icon
and demeaned all people from India. "I love this quote. It's from Mahatma Gandhi. He ran a gas station down in St. Louis for a couple of years. Mr. Gandhi, do you still go to the gas station?" asked Clinton.
#9 –
In 2005 Hillary
said
, "I am adamantly against illegal immigrants." She also, as a Senator, voted to construct a wall between the US and Mexico. Considering the main "proof" of Trump's racism is that he opposes illegal immigration and wants to build a wall, isn't it odd that Hillary gets off for having said the same thing?
#10 –
During the 2008 democratic primaries Hillary Clinton's campaign started the "birther" rumors, questioning Obama's US citizenship. They even circulated the now famous picture of Obama in full Muslim garb. Somehow Trump's campaign to get Obama to release his birth certificate is racist, but Hillary's role in
starting the birther movement
is not.
#11 –
Also during the 2008 presidential race, Hillary's husband Bill said this of Obama: "A few years ago, this guy would have been getting us coffee." Hillary didn't say this one but her husband did and she certainly never disavowed it.

#12 –
Shortly after announcing her candidacy, Hillary said "
all lives matter
" in a black church. I don't think this one is racist, but lefties, black activists, and Hillary herself all do, so it makes the list. Plus as is the case with most of this stuff, if Trump had said it liberals would freak the hell out.
#13 –
In November of 2015, Hillary called people in this country illegally "
illegal aliens
". Trump is a racist when he says "illegal aliens," why isn't Hillary?
#14 –
April was a great month for Hillary's racism, as she also made a comment
disparaging Native Americans
. She said she had experience dealing with wild men when they "get off the reservation." In essence she said Native Americans are savages who must be segregated from the rest of society.
#15 –
On a black radio show, Hillary pandered to black voters by claiming she always carries
hot sauce
in her purse. It was racist when Donald Trump pandered Hispanics by eating a taco bowl, but not racist when Hillary pandered blacks. How does that work?
To recap: Trump has said that some illegal aliens are criminals, suggested a judge with ties to a radical racist Mexican group may be biased, and offered the opinion that we do more to keep radical Islamic Terrorists from getting into the country. These things that have nothing to do with race are why the media constantly tells us Trump is a racist.
Hillary Clinton, on the other hand, has decades of making anti-Semitic, anti-black, anti-Indian (both Native Americans and Asians), and anti-Latino statements. Why is Trump a racist and Hillary is not?
The following is from a BLOG by H. A. Goodman and written for The Huffington Post
Five Reasons Black Lives Matter Should Also Protest Hillary Clinton's Events:
While Bernie Sanders has now been protested twice, there seems to be a willingness to overlook Hillary Clinton's past on the topics of race and gay rights. Black Lives Matter is a noble organization that has brought much needed attention to profound issues; however, recent protests ignore the fact that Clinton's political career runs contrary to many of the organization's
stated objectives
. Aside from the fact Hillary Clinton recently stated "
All Lives Matter
" in a speech to a historically black church in Missouri, below are five legitimate reasons why Black Lives Matter should also protest Hillary Clinton.
16. Hillary Clinton's 3 a.m. ad in 2008 contained a "racist sub-message," according to Harvard sociologist Orlando Patterson.
Bernie Sanders
endorsed Jesse Jackson for president in 1988
, was active in the Civil Rights movement during the 1960s, and never engaged in using seemingly racist undertones as a means to win a political race.
Hillary Clinton, in contrast, ran a now infamous
3 a.m. ad
with a reportedly "
racist sub-message
" against Obama in 2008. According to Harvard sociologist Orlando Patterson's New York Times op-ed titled "The Red Phone in Black and White," Hillary Clinton resorted to exploiting racial fears during 2008's heated competition for the White House:
ON first watching Hillary Clinton's recent "It's 3 a.m." advertisement, I was left with an uneasy feeling that something was not quite right...

I have spent my life studying the pictures and symbols of racism and slavery...

I couldn't help but think of D. W. Griffith's "Birth of a Nation," the racist movie epic...

The ad could easily have removed its racist sub-message by including images of a black child, mother or father — or by stating that the danger was external terrorism...

It is striking, too, that during the same weekend the ad was broadcast, Mrs. Clinton refused to state unambiguously that Mr. Obama is a Christian and has never been a Muslim.
Harvard sociologist Orlando Patterson, author of numerous books on race and the history of racism, is also the author of the landmark
Slavery and Social Death
. His observations of Clinton's 3 a.m. ad come from decades of profound analysis on the issue of race and politics. Bernie Sanders has never engaged in the utilization of racial fears, prejudice and stereotype.
17. Hillary Clinton waited close to three weeks to address Ferguson. Why?
Not only did
Twitter grill Clinton's Ferguson remarks
(when she eventually made a statement), but leaders within the African-American community questioned her motives in waiting until after the protests to speak.
Like Keystone XL and other topics, Hillary Clinton refused to issue a definitive statement during an ongoing controversy. According to a CNN article titled "Hillary Clinton breaks silence on Ferguson," the former Secretary of State had a specific reason for waiting so long to take a firm stance:
(CNN) - Hillary Clinton broke her silence Thursday...

In the weeks after the shooting, civil rights and black thought leaders had called on Clinton to comment on Ferguson.

Marc Lamont Hill, a CNN commentator, said Clinton's decision to "ignore the question and to not proactively and assertively address the issue is shameful."

"Hillary Clinton offers a statement on Michael Brown and Ferguson. 19 days later," Hill tweeted in response to the speech. "Next she'll offer her thoughts on Rodney King and Vietnam."
Therefore, isn't Clinton's politically motivated refusal to speak about Ferguson before an almost three week period worthy of protest? If such actions are deemed "
shameful
," then doesn't this refusal to address Ferguson, when Ferguson was in flames, worthy of focus from Black Lives Matter?
18. Bill Clinton recently apologized for his 1994 crime bill and his role in the mass incarceration that has disproportionately affected African-Americans.
One of the biggest issues today, pertaining to race and politics, is the tragedy of mass incarceration. In a Vox
article
titled "Bill Clinton apologized for his 1994 crime bill, but he still doesn't get why it was bad," the issue of mass incarceration was exacerbated under the Clinton presidency:
Hillary Clinton is campaigning on, among other things, an end to the era of mass incarceration. Awkwardly, Bill Clinton, former president of the United States, signed a law in 1994 that did a lot to accelerate mass incarceration...

The Clintons are politicians, and it makes sense that they've shifted their positions in response to the demands of the public and their party. In the 1980s and 1990s, Democrats were afraid of being seen as "soft on crime," and felt that cracking down on crime might help African-American communities...

While the Clinton presidency "did a lot to accelerate mass incarceration" and didn't want to be "
soft on crime
," Bernie Sanders has clearly
stated
, "Millions of lives have been destroyed because people are in jail for nonviolent crimes."
19. Black Lives Matter is also heavily focused on gay rights. Hillary Clinton was against gay marriage up until 2013.
Clinton also
stated
in 2004 that traditional marriage was "
the fundamental bedrock principle
that exists between a man and a woman, going back into the midst of history as one of the foundational institutions of history and humanity and civilization."
An
article
in The Atlantic titled "Hillary Clinton's Gay-Marriage Problem" highlights the fact that Clinton was against what most gay rights activists have worked for years to finally accomplish:
Hillary Clinton didn't refrain from supporting same-sex marriage for political reasons — before last year, she earnestly believed that marriage equality should be denied to gays and lesbians.

That's the story the 66-year-old Democrat settled on when NPR host Terry Gross

pressed her on her views

.

That same year, Clinton ran for president while openly opposing gay marriage. If she is to be believed, she also opposed gay marriage as recently as 2013, long after a majority of Americans already held a more gay-friendly position.
While Hillary Clinton believed up until recently that marriage should be "denied to gays and lesbians," Bernie Sanders has a long history supporting gay rights. It should be noted by Black Lives Matter and all gay rights activists that
Bernie Sanders voted against
Bill Clinton's Defense of Marriage Act in 1996.
20. Hillary Clinton's campaign in 2008 not only ran an ad accused of having a "racist sub-message," but a black leader in the House of Representatives denounced Bill Clinton's attacks on Obama.
According a New York Times
article
in 2008 titled "Black Leader in House Denounces Bill Clinton's Remarks," black leaders in Congress condemned Bill Clinton's remarks about Barrack Obama:
The third-ranking Democrat in the House of Representatives and one of the country's most influential African-American leaders sharply criticized former President Bill Clinton this afternoon for what he called Mr. Clinton's "bizarre" conduct during the Democratic primary campaign.

Representative James E. Clyburn, an undeclared superdelegate from South Carolina who is the Democratic whip in the House, said that "black people are incensed over all of this," referring to statements that Mr. Clinton had made in the course of the heated race between his wife, Senator Hillary Rodham Clinton, and Senator Barack Obama.

Mr. Clyburn added that there appeared to be an almost "unanimous" view among African-Americans that Mr. and Mrs. Clinton were "committed to doing everything they possibly can to damage Obama to a point that he could never win."
After the uproar over several comments, Bill Clinton was even forced to say, "
I am not a racist
".
The goal of protesting a political event is noble, especially when such grandiose issues are at stake. However, when one politician has a record of promoting civil rights and gay rights when opinion polls were against both, and Bill Clinton
executed
a mentally disabled black man simply for the goal of winning an election, the Clinton campaign should also receive protests.
Hillary Clinton's past runs contrary to the
stated goals
of Black Lives Matter. Hillary Clinton was against gay marriage, used a campaign ad accused of having racist undertones, waited a calculating
19 days
to address Ferguson, and utilized racial prejudices against Barack Obama.
Furthermore, Bill Clinton's crime bill may have helped contribute to Ferguson, Baltimore and other tragedies linked to mass incarceration. Bernie Sanders, on the other hand, is the antithesis of Clinton's record on these issues and stood by the noble causes advocated by Black Lives Matter, long before they were popular. In the interest of fairness, and the fact that Sanders has a better record on race and gay rights than Clinton, activists should also focus on the Clinton Campaign in 2016.
#21. Dolly Kyle, Bill Clinton's Childhood Friend says Hillary is racist.
This item would not be mentioned as a stand-alone argument for proving that Hillary is a racist. But it adds weight and credability to the other items of evidence that Hillary is a racist. The problem is that people who are faithful to Hillary will look at all of these points and find the weakest one in the group and attack it. But the items in this list in this blog are not links in a chain and you do not discredit the premise of the entire blog by attacking one single link. Instead, this blog should be looked upon as parts of a whole case. The way to determine what is true and what is not true is to look at all of the facts, not cherry pick the weakest point and think you are going to make a difference by cheery picking one item.
The following is from wnd.com
Almost no one knows Bill Clinton better than Dolly Kyle, the ex-president's former childhood friend, confidante and lover. And in a recent interview with Sean Hannity, Kyle leveled an explosive charge at presumptive Democratic nominee Hillary Clinton, one which could rock the 2016 presidential election.
Kyle said to Sean Hannity, "Watch the imperious way Hillary treats anyone beneath her, especially young black women."
Hannity asked if Kyle was accusing the former first lady of racism. Kyle did not back down, repeating the charge and even saying the same could be true of the man she calls "Billy" Clinton.
"I am absolutely suggesting she's racist," she said. "And I talk in the book about the racial discrimination lawsuits that were filed against Billy when he was governor that were filed by blacks and by Hispanics. Did you know that at one point he told the Arkansas state police to stop and search every car driven by a Hispanic in the state of Arkansas? And they sued him, took him to federal court, he got reprimanded by a federal judge, and he got so mad about that, he told the state troopers they could stop and search any car they wanted to search."
The scandal is just one of the dozens Kyle describes in her new book "
Hillary: The Other Woman
," which is now rocketing up the charts at Amazon.com and is the No. 1 new release in the category of "Presidents and Heads of State Biographies." It has already gotten more than 50 exuberant reviews and boasts an average of 4.8 out of five stars.
I have been reading more reports on Kyle's book. It is worse than you might imagine. She clearly states that both Bill Clinton and Hillary are racists. She insists that the Clinton's called Reverend Jessie Jackson "that goddam nigger" (see infowars.com). I am sure Hillary will deny this, but, given her track record as a proven liar, she can no longer be given the benefit of the doubt.
#22. Hillary Clinton admires Margaret Sanger.

Hillary Rodham Clinton is either a nefarious sociopath on a mission to do as much destruction in this world as possible in her lifetime, or an incompetent fumbler and bumbler stumbling through the world. She carelessly causing harm and damage to everyone close to her and, whenever possible, as far as her reach and power extends either intentionally or unintentionally. Either way, she is not fit for command. Writing editorials and reports of her misdeeds and mistakes is only a question of time. She has provided an endless stream for me to make note of. All I have to do is draw attention to what she has done that is easy to find.
I would like to think that Hillary Clinton was just simply being ignorant when she praised one of the most evil genocidal maniacs in history. I assume Hillary did so simply because Margaret Sanger was responsible for creating an organization that became "Planned Parenthood" and that Hillary is a staunch "Pro Choice" supporter. But, after reading a series of Sanger's quotes, it is obvious that her reasons for starting Planned Parenthood did hot have honorable or respectable intentions.
I will list some of the disturbing things Margaret Sanger has written below but for now I will state perhaps her most infamous one that best reflects her mindset: "we don't want the word to go out that we want to exterminate the Negro population". If you read all of her quotes you get the sense that Sanger wanted to use birth control as a means of promoting a racist agenda. In fact one of her quotes is: "Birth control must lead ultimately to a cleaner race."
Sanger was a monster. Did Hillary not know this when she praised Sanger with "I admire Margaret Sanger enormously... I am really in awe of her" . I would like to give Hillary the benefit of the doubt and assume that starting Planned Parenthood is a good (to Hillary) that overshadows any bad. But there is a whole lot of bad here. At worst, Hillary knows and does not care. At best Hillary does not know but she should have known. Either way, Hillary is unfit for command. It should also be noted that Hillary never provided a retraction, apology, or clarification. I assume that she hopes this will all just blow over. I also believe that if this had gotten any media attention, she would have dealt with it. We should not want a president like this. We should expect better.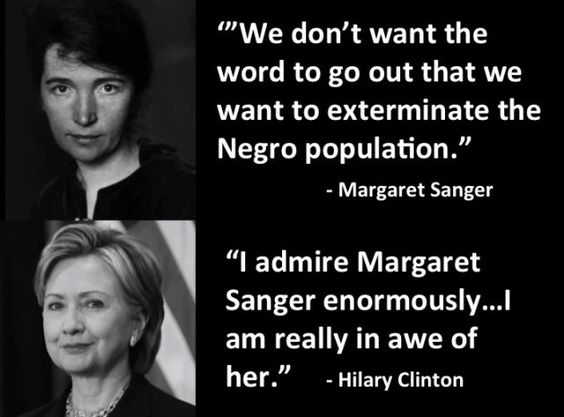 Here is a list of 12 Disturbing Quotes from Margaret Sanger: Planned Parenthood's Foundress taken from
profile365.com
Apparently, supporting and advocating eugenics earns you a place of honor in today's world. If you're Francis Galton, who coined the term, eugenics meaning "well born," then you're forgotten. If you're Margaret Sanger, then the world's largest abortion provider names an annual award after you.

Margaret Sanger began in 1923 the American Birth Control League. It would go on to become Planned Parenthood Federation of America.

Back in March 2014, Nancy Pelosi, a self-professed Catholic, and current Minority Leader in the US House of Representatives,

was given

the dubious "Margaret Sanger Award."

So, what did Sanger stand for? To give you an idea, here are 12 quotes:

1) "[Our objective is]

unlimited sexual gratification without the burden of unwanted children…

[Women must have the right] to live … to love… to be lazy … to be an unmarried mother … to create… to destroy… The marriage bed is the most degenerative influence in the social order…

The most merciful thing that a family does to one of its infant members is to kill it.

"

– Margaret Sanger (editor).

The Woman Rebel

, Volume I, Number 1. Reprinted in Woman and the New Race. New York: Brentanos Publishers, 1922 (emphasis mine).

2) "We should hire three or four colored ministers, preferably with social-service backgrounds, and with engaging personalities. The most successful educational approach to the Negro is through a religious appeal.

We don't want the word to go out that we want to exterminate the Negro population

. And the minister is the man who can straighten out that idea if it ever occurs to any of their more rebellious members."

– Margaret Sanger's December 19, 1939 letter to Dr. Clarence Gamble, 255 Adams Street, Milton, Massachusetts. Original source: Sophia Smith Collection, Smith College, North Hampton, Massachusetts. Also described in Linda Gordon's Woman's Body, Woman's Right: A Social History of Birth Control in America. New York: Grossman Publishers, 1976 (emphasis mine).

3) "Today eugenics is suggested by the most diverse minds as the most adequate and thorough avenue to the solution of racial, political and social problems.

"I think you must agree… that the campaign for birth control is not merely of eugenic value, but is practically identical with the final aims of eugenics… Birth control propaganda is thus the entering wedge for the eugenic educator.

"

As an advocate of birth control I wish… to point out that the unbalance between the birth rate of the 'unfit' and the 'fit,'

admittedly the greatest present menace to civilization, can never be rectified by the inauguration of a cradle competition between these two classes. In this matter, the example of the inferior classes, the fertility of the feeble-minded, the mentally defective, the poverty-stricken classes, should not be held up for emulation.

"On the contrary, the most urgent problem today is how to limit and discourage the over-fertility of the mentally and physically defective."

– Margaret Sanger. "

The Eugenic Value of Birth Control Propaganda

." Birth Control Review, October 1921, page 5 (emphasis mine).

4) "Our failure to segregate morons who are increasing and multiplying… demonstrates our foolhardy and extravagant sentimentalism…

"[Philanthropists] encourage the healthier and more normal sections of the world to shoulder the burden of unthinking and indiscriminate fecundity of others; which brings with it, as I think the reader must agree, a dead weight of human waste.

"Instead of decreasing and aiming to eliminate the stocks that are most detrimental to the future of the race and the world, it tends to render them to a menacing degree dominant…

"We are paying for, and even submitting to, the dictates of an ever-increasing, unceasingly spawning class of human beings who never should have been born at all."

– Margaret Sanger.

The Pivot of Civilization

, 1922, pages 116, 122, and 189. Swarthmore College Library edition (emphasis mine).

5)

"Birth control must lead ultimately to a cleaner race."

– Margaret Sanger.

Woman, Morality, and Birth Control

. New York: New York Publishing Company, 1922, page 12 (emphasis mine).

6) "One fundamental fact alone, however, indicates the necessity of Birth Control if eugenics is to accomplish its purpose…

"Before eugenists and others who are laboring for racial betterment can succeed, they must first clear the way for Birth Control.

Like the advocates of Birth Control, the eugenists, for instance, are seeking to assist the race toward the elimination of the unfit

. Both are seeking a single end but they lay emphasis upon different methods."

– Margaret Sanger. "

Birth Control and Racial Betterment

," Feb 1919 (emphasis mine).

7) The government ought to "apply a stern and rigid policy of sterilization and segregation to that grade of population whose progeny is tainted, or whose inheritance is such that objectionable traits may be transmitted to offspring."

And the government should "give certain dysgenic groups (those with 'bad genes') in our population their choice of segregation or sterilization."

– Margaret Sanger, "

A Plan for Peace

." Birth Control Review, April 1932, pages 107-108 (emphasis mine).

8) "The third group [of society] are those irresponsible and reckless ones having little regard for the consequences of their acts, or whose

religious scruples prevent their exercising control over their numbers

. Many of this group are diseased, feeble-minded, and are of the pauper element dependent upon the normal and fit members of society for their support.

There is no doubt in the minds of all thinking people that the procreation of this group should be stopped

."

– Margaret Sanger. Speech quoted in

Birth Control: What It Is, How It Works, What It Will Do

. The Proceedings of the First American Birth Control Conference. Held at the Hotel Plaza, New York City, November 11-12, 1921. Published by the Birth Control Review, pages 172 and 174 (emphasis mine).

9) "There is only one reply to a request for a higher birthrate among the intelligent, and that is to ask the government to first take the burden of the insane and feeble-minded from your back.

[Mandatory] sterilization for these is the answer

."

– Margaret Sanger, "

The Function of Sterilization

." Birth Control Review, October 1926 (emphasis mine).

10) "In passing, we should here recognize the difficulties presented by the idea of 'fit' and 'unfit.' Who is to decide this question? The grosser, the more obvious, the undeniably feeble-minded should, indeed, not only be discouraged but prevented from propagating their kind. But among the writings of the representative Eugenists [sic], one cannot ignore the distinct middle-class bias that prevails."

– Margaret Sanger, quoted in Charles Valenza. "Was Margaret Sanger a Racist?" Family Planning Perspectives, January-February 1985, page 44 (emphasis mine).

11) Birth control: "To create a race of thoroughbreds."

– Margaret Sanger, "

Unity

." The Birth Control Review, Nov 1921 (emphasis mine).

12) "Birth Control is not merely an individual problem; it is not merely a national question, it concerns the whole wide world, the ultimate destiny of the human race.

"Hordes of people [are] born, who live, yet who have done absolutely nothing to advance the race one iota. Their lives are hopeless repetitions…

Such human weeds clog up the path, drain up the energies and the resources of this little earth

. We must clear the way for a better world; we must cultivate our garden."

– Margaret Sanger. Birth Control:

Facts and Responsibilities

, 1925 (emphasis mine).

Again, Margaret Sanger is the woman Planned Parenthood proudly affiliates with, and calls a "great hero." In fact, although not mentioning Sanger's obvious efforts to promote eugenics, Planned Parenthood

goes on to state

"Sanger's early efforts remain the hallmark of Planned Parenthood's mission."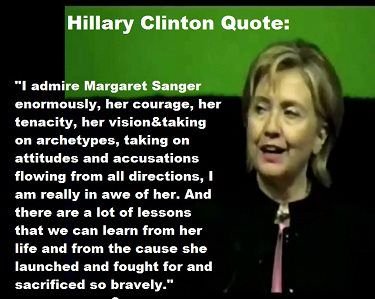 #23. Hillary Clinton Praises Robert C. Byrd.
[urlhttp://
www.youtube.com/watch?v=6oTZGBz5j8o
][/url]
The following is from redalertpolitics.com:
Millennials shocked by racist Hillary quotes, think they're from Trump By James Ring
Millennials have derided Donald Trump for his "racist" and "insensitive" rhetoric, but voters are unaware that Hillary Clinton has said many things during her political career that people would've criticized had the same words came from Donald Trump.
Campus Reform traveled to Georgetown University to play a game with students in which they had six outrageous phrases and facts, then asked students to guess whether Clinton or Trump said it.
One of the questions Campus Reform asked students was, "Which candidate made a joke about 'colored people time' saying that black people are always late?" Another question: "Which candidate suggested a 12-year-old rape victim made up accusations because she enjoyed 'fantasizing about older men?'"
Most students answered Donald Trump.
However, all six quotes were from Hillary Clinton. All of the students were shocked when they found out. Many of the students said their opinion of her was more negative after hearing the things that she has said and done.
"Makes me dislike her even more I guess," one student said.
"She's very untrustworthy in my eyes," another student commented.
A different student summed up the reactions by saying, "if she claims to stand for all these things, but then she says the opposite, then people would probably question voting for her."
Watch the video below:
[/youtube]